Denture Treatments in Tupelo
Get Your Smile Back
Missing teeth can impact your life — and your self-confidence. At North Mississippi Family Dentistry, you can get personalized denture treatment to restore the appearance and function of your smile.
Like most people, you might hear the word "dentures" and immediately think of your grandparents. However, dentures can be a great restoration option for any smile!
Dentures are removable devices that replace missing teeth and the surrounding tissue.
They're made from materials including acrylic resin, porcelain, and metal.
If you're missing some or all of your teeth due to injury, disease, or decay, dentures could be your solution. At North Mississippi Family Dentistry, we offer traditional and implant dentures to restore your smile and improve your quality of life.
What Are Traditional Dentures?
Traditional dentures are the most common type and have been used for decades to replace missing teeth. These dentures are made from acrylic resin and porcelain and are custom-made to fit over your gums and remaining teeth.
They're held in place by suction or adhesive and are easily removed for cleaning and maintenance.
Types of Traditional Dentures
We offer two types of dentures at our Tupelo office:
Partial dentures: These dentures use replacement teeth attached to gum-colored plastic bases that attach to your natural teeth with metal clasps.
Complete dentures: This type is a full set of dentures used when a patient is missing all of their teeth.
Pros & Cons of Traditional Dentures
One of the most significant advantages of traditional dentures is their affordability. They're a cost-effective way to replace missing teeth and are customized to fit your unique needs.
However, traditional dentures also have some drawbacks. They can be uncomfortable and require periodic adjustments to ensure a proper fit.
Additionally, they may provide a different level of stability and chewing function than natural teeth, so it can take some adjustment initially.
What Are Implant Dentures?
Implant dentures are a more advanced option that provides a more stable and long-lasting solution for missing teeth.
These dentures are supported by dental implants, which are small titanium posts that your dentist surgically implants into your jawbone. The denture is attached to the implants, providing a secure, stable fit that feels and functions like natural teeth.
Benefits of Implant Dentures
Implant dentures offer several benefits over traditional dentures. They're more stable and secure, which improves your ability to chew and speak.
They also help to preserve the jawbone, preventing the bone loss that can occur when teeth are missing.
Implant dentures are more comfortable and require less maintenance than traditional dentures, so you'll have a more convenient overall experience.
Types of Implant Dentures
At North Mississippi Family Dentistry, we offer several types of implant dentures to meet your needs. These include:
All-on-4®: This technique involves placing four dental implants in the jawbone and attaching a full arch of teeth to the implants. This procedure provides a stable and permanent solution for missing teeth.
All-on-6®: These dentures are similar to the All-on-4 system except that they're supported by six dental implants, providing a more stable and secure fit for patients whose bone quality requires more than four dental implants to support a full denture set.
Mini implants: Mini implants are smaller than traditional implants and are useful when the jawbone is not strong enough to support traditional implants.
Which Option Is Right for You?
The decision to choose traditional or implant dentures depends on several factors, including your oral health, budget, and personal preferences.
At North Mississippi Family Dentistry, our team of dental professionals will work closely with you to determine the best treatment plan for your unique needs.
If you're considering dentures, we encourage you to schedule a consultation with one of our experienced dentists. We will evaluate your oral health and discuss your options for tooth replacement. We'll help you get a healthy, beautiful smile you can be proud of.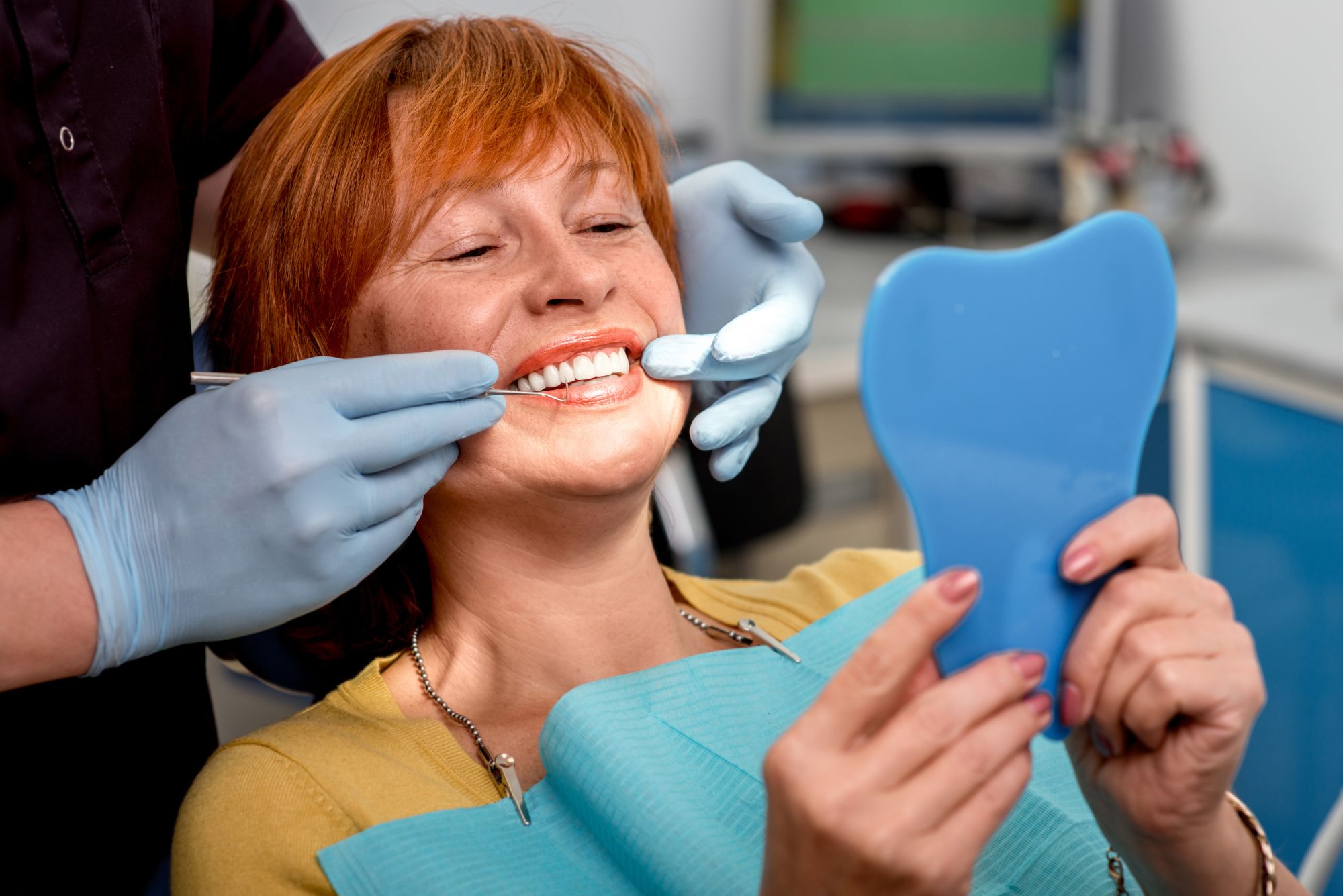 Learn More About Dentures
Dentures can be a great solution for missing teeth regardless of age. At North Mississippi Family Dentistry, we'll thoroughly examine your smile to determine the type of dentures that will give you the best results.
If you want a stable, long-lasting solution for your smile, contact our Tupelo office to schedule an appointment with Dr. Wall or Dr. Holliday. We can't wait to help you smile with confidence!